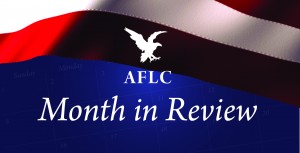 Here are the highlights for July 2018:
* On July 11, the Texas Court of Appeals for the Fifth District in Dallas affirmed the trial court's ruling dismissing in its entirety a defamation lawsuit filed by Mohamed Mohamed on his own behalf and on behalf of his 15-year old son, Ahmed Mohamed.  Ahmed is better known as "Clock Boy" for bringing a hoax clock bomb to his Irving, Texas middle school in September 2015 and causing a bomb scare that led to his arrest and suspension from school.
We filed the motion to dismiss on behalf of the Center for Security Policy ("CSP") and Jim Hanson, two of the defendants in the defamation case, which also named as defendants Ben Shapiro, the local Fox affiliate, Glenn Beck, and Beck's production company.  All claims against all defendants were ultimately dismissed.  The Texas Appellate Court also affirmed our award of attorneys' fees and costs.
Mohamed had sued Hanson and CSP for statements Hanson had made on Beck's program about the connection between the Clock Boy hoax bomb affair and the attendant media frenzy created in large part by his father Mohamed, and how this was all part of civilization jihad driven by the Council on American-Islamic Relations ("CAIR"), the Muslim Brotherhood-Hamas front group in the United States that promotes civilization jihad through lawsuits.
The Texas appeals court specifically ruled that Mohamed had not made out a case for defamation because CSP and Hanson had based their statements in large part on the involvement of CAIR, which the court noted, was "an organization . . . the federal government had linked to Islamic terrorist supporters as an unindicted co-conspirator in a terrorism case."
The purpose of this CAIR-driven lawsuit was to intimidate into silence those who might comment publicly on the connection between jihad, terrorism, sharia, and Islam.
Our victory was a victory for the First Amendment's right to freedom of speech.
* On July 16, we filed a supplemental brief in our case defending CSP and several of its employees, who were sued by CAIR for conducting an undercover documentary designed to expose the Islamic organization's ties to the Muslim Brotherhood.  The case is set to go to a jury trial in the U.S. District Court in Washington, D.C.  This latest filing is part of the extensive pretrial briefing ordered by the court.
In our filing, we argue that CAIR's connection to the Muslim Brotherhood in the United States is intimately connected to its origins and its relationships with terrorist organizations such as Hamas.  We thus demonstrate that all of the evidence that CAIR now seeks to desperately preclude from this trial (public documents showing the Muslim Brotherhood's connection to terrorism, the Muslim Brotherhood network in the U.S., and CAIR's Muslim Brotherhood pedigree) is precisely the evidence the CSP defendants need to demonstrate that the documentary project was substantively sound.
A trial date has not yet been set.
*In early July, following President Trump's nomination of Judge Brett Kavanaugh to the U.S. Supreme Court, AFLC conducted several media interviews regarding the selection, particularly in light of Judge Kavanaugh's opinion in AFLC's lawsuit filed on behalf of Priests for Life.  This opinion on religious freedom attracted the attention of people from both sides of the aisle.
* In July, we prepared a new civil rights lawsuit for filing in the U.S. District Court for the Northern District of Ohio on behalf of two pro-lifers who were threatened with arrest for preaching the Gospel and singing worship songs on the public sidewalk outside of a Toledo abortion center.
* We continue with court appearances, depositions, briefs, and motion practice in many other cases as well.
Thank you for your prayers and financial support.  We couldn't do what we do without them!