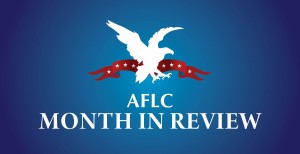 Here are the highlights for March 2018:
* On March 1, our amicus curiae brief filed in support of President Trump's proclamation restricting travel from certain countries was received by the U.S. Supreme Court.  The brief was filed on behalf of seven national security experts: Andrew C. McCarthy; Center for Security Policy; Frank Gaffney; Dr. Robert J. Shillman; Admiral James "Ace" Lyons, Jr., U.S. Navy Retired; Lieutenant General William G. Boykin, U.S. Army Retired; and Ambassador Henry F. Cooper.
The AFLC-authored brief argues that the President's most recent executive proclamation suspending entry and creating a more rigorous entry vetting process for immigrants and travelers from certain high-risk countries (Chad, Iran, Libya, North Korea, Syria, Venezuela, Yemen, and Somalia) was a constitutional and statutorily permitted first step before implementing a more thorough-going "extreme vetting" for potential jihadists.  The brief lays out the policy and legal basis for an extreme vetting of Islamists who advocate or adhere to a political ideology predicated upon Sharia supremacism.  The brief argues that it is classic and extant Islamic law that is the threat doctrine underpinning jihad by the various Islamic groups, whether they be Al Qaeda, the Islamic State, or the Muslim Brotherhood.
*On March 2, we defended the last of the employee depositions in the Urth Caffe litigation, in which seven women claimed they were subjected to religious discrimination when the Urth Caffe staff asked them to leave after the women refused to abide by the café's seating policy.  The women later made the fraudulent claim that they were evicted from the café because they wore hijabs—Islamic head coverings worn by some Muslim women.  The lawsuit was initiated by the Council on American-Islamic Relations (CAIR), the Muslim Brotherhood/Hamas front group in the U.S.  This litigation against Urth Caffe, like other litigation of its kind, is part of the Brotherhood's "civilizational jihad" to destroy America from within by exploiting its laws promoting liberty and equality against patriotic citizens and companies via lawfare.
After more than a year of discovery, including depositions of all of the witnesses and production of thousands of documents, AFLC has demonstrated that there is not a shred of evidence of any discrimination.  In fact, the security tapes show just the opposite.  Urth Caffe's seating policy was applied fairly and without regard to race, religion, or nationality.  AFLC has filed a motion for summary judgment asking the Court to throw out the discrimination case while allowing Urth Caffe's cross-claims for trespass against the seven women to continue to trial.
*On March 7, we filed a reply brief in support of our motion for summary judgment in our lawsuit seeking to stop the construction of a mega-mosque in the middle of a Chaldean Christian neighborhood in the City of Sterling Heights, Michigan.  Our clients, many of whom fled religious persecution by Muslims, view the building of this mosque as an act of aggression against their community, similar to what they experienced in Iraq.  A hearing on the motions is set for May 7.
* On March 14, we filed our opening brief in the U.S. Court of Appeals for the Ninth Circuit in our case challenging King County's (Seattle, Washington) refusal to display our clients' "Faces of Global Terrorism" ads on their transit authority buses.  The County claims that the ads, which depict the actual faces of the FBI's most wanted global terrorists, are demeaning toward Muslims since the depicted terrorists are Muslim or engage in terrorist acts in the name of Islam.
* On March 14, we represented five pro-lifers at their sentencing hearing in state court in the Township of West Bloomfield, Michigan.  The pro-lifers, who were part of the Red Rose Rescue, went into an abortion center in the Township and handed out roses to women who were waiting to have an abortion.  The pro-lifers offered the women spiritual and material support in an effort to convince them to choose life instead of abortion for their babies.  The pro-lifers were arrested and charged with trespassing and interfering with police authority because they "passively resisted" arrest.  During their trial, the pro-lifers were denied a necessity defense and found guilty.  We are appealing this issue as well as the draconian probation conditions imposed by the court for this simple trespass charge (a 30-day ordinance violation), including the condition that the pro-lifers remain 500 feet from any abortion center located anywhere in the U.S. (a violation of the First Amendment) and the condition that they have no contact with each other, including joint contact with us, their attorneys, as necessary for their defense on appeal (a violation of the right to counsel protected by the Sixth Amendment).
* On March 15, we presented oral argument before a U.S. District Court judge in Detroit, Michigan on behalf of our client, Kimberley Thames, a pro-life demonstrator who was unlawfully arrested, searched, and jailed for more than two days based on a bogus and false complaint by a security guard working for Northland Family Planning Center, a local abortion center located in the City of Westland, Michigan.  We expect a ruling within the coming months.
* On March 27, we filed an emergency motion in the Oakland County (Michigan) Circuit Court, seeking a stay of the sentences of the five pro-lifers found guilty for entering an abortion center in West Bloomfield Township, Michigan.  We are asking for a stay while the case proceeds through the appeal process.
* We continue with court appearances, depositions, briefs, and motion practice in many other cases as well.
Thank you for your prayers and financial support.  We couldn't do what we do without them!