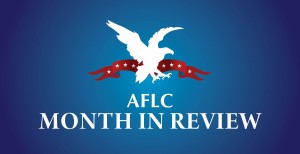 Here are the highlights for a very busy February 2018:
* On February 1, we filed a motion for summary judgment in our lawsuit seeking to stop the construction of a mega-mosque in the middle of a Chaldean Christian neighborhood in the City of Sterling Heights, Michigan.  We argue that by allowing the construction via a consent judgment, the City and its Mayor violated not only its zoning regulations but also the constitutional rights of our clients, many of whom are Chaldean Christians who view the building of this mosque as an act of aggression against their community, similar to what they experienced in Iraq.  We filed our response in opposition to the City's motion for summary judgment on February 16, 2018.  A hearing on the motions is set for May 7.
* On February 7, we filed an opposition to a motion filed in desperation by the Council on American-Islamic Relations (CAIR).  In the lawsuit we filed on behalf of five former CAIR clients, the plaintiffs are suing CAIR for fraud and related torts, including consumer fraud, which provides for an award of attorney's fees.  CAIR understands that given that the lawsuit has been ongoing for almost a decade, plaintiffs' attorney's fees could exceed one million dollars.  Seven years ago, the federal court hearing the case rejected CAIR's arguments, but CAIR's eleventh attorney of record seems to believe he'll get a different result this time.
* On February 13, we filed a reply brief in support of our motion for summary judgment in our case representing Kimberley Thames, a pro-life demonstrator who was unlawfully arrested, searched, and jailed for more than two days based on a bogus and false complaint by a security guard working for Northland Family Planning Center, a notorious abortion center located in the City of Westland, Michigan.  Our hearing on the motion is scheduled for March 15, 2018, in the U.S. District Court for the Eastern District of Michigan.
* On February 14 and 15, we defended four pro-lifers at a two-day jury trial in state court in the City of Sterling Heights, Michigan.  The pro-lifers, who were part of the Red Rose Rescue, went into an abortion center in the City and handed out roses to the women who were waiting to have an abortion.  The pro-lifers offered the women spiritual and material support in an effort to convince them to choose life instead of abortion for their babies.  The pro-lifers were arrested and charged with trespassing.  They were denied a necessity defense and were found guilty.  Following the trial, we were able to speak with the jury, and it was clear that if the judge gave the requested necessity defense jury instruction, the jury would have found them not guilty.  We are appealing this issue.
* In addition to ongoing depositions, on February 15, we filed a motion for summary judgment on behalf of our client, Urth Caffe, asking the court to toss out the discrimination complaint filed by the seven women claiming they were subjected to religious discrimination when the Urth Caffe staff asked them to leave after the women refused to abide by the café's seating policy.  The women later made the fraudulent claim that they were evicted from the café because they wore hijabs—Islamic head coverings worn by some Muslim women.
AFLC's motion demonstrates that after more than a year of discovery, including depositions of all of the witnesses and production of thousands of documents, there is not a shred of evidence of any discrimination.  In fact, the security tapes show just the opposite.  Urth Caffe's seating policy was applied fairly and without regard to race, religion, or nationality.
* On February 20, AFLC's local counsel in Dallas, Texas, argued the appeal of the Clock Boy defamation lawsuit on behalf of our client the Center for Security Policy (CSP).  The appeal by the father of the Muslim high school student who brought what looked like a briefcase bomb with a clock detonator to school, follows dismissal of his claim of defamation against CSP and others.  The court had earlier granted our motion to dismiss the lawsuit and awarded us attorneys' fees.
* On February 20 and 21, we defended five pro-lifers at a two-day jury trial in state court in West Bloomfield, Michigan.  The pro-lifers were arrested for trespass and interfering with police authority because they wanted to help the mothers and unborn babies who were in imminent harm at a local abortion center.  These pro-lifers were also part of the Red Rose Rescue.  A request for a necessity defense in this case was also denied, and the jury returned a guilty verdict.  The judge set sentencing for March 14, and he imposed a bond condition that restricted the pro-lifers from going within 50 yards of any abortion center anywhere in the United States.  We filed an emergency motion in the Circuit Court, challenging this condition on First Amendment grounds.  That motion was denied.  The court held that since the condition is in place only until sentencing, there was no showing of "substantial harm."  We then filed an emergency appeal to the Michigan Court of appeals, and we are awaiting a decision.
* On February 27, we were retained by Students for Life of Michigan to defend them against a trademark lawsuit challenging its use of the generic term "Students for Life" as part of its official name.  The lawsuit was filed in the U.S. District Court for the Western District of Michigan.
* We continue with court appearances, depositions, briefs, and motion practice in many other cases as well.
Thank you for your prayers and financial support.  We couldn't do what we do without them!