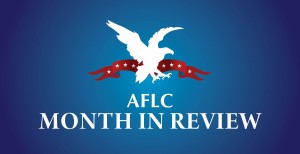 Here are the highlights for November 2017:
* On November 2, we filed an appeal to the U.S. Court of Appeals for the Ninth Circuit in our case (AFDI v. King County) challenging as a violation of the First Amendment King County's rejection of our clients' "Faces of Global Terrorism" ads.  The County claimed that the ads, which showed the "faces" of the FBI's most wanted global terrorists, were demeaning toward Muslims.  The district court ruled in favor of the County, prompting our appeal.
* On November 10, we continued depositions in the case of Thames v City of Westland, in which we are representing Kimberley Thames, a pro-life demonstrator who was unlawfully jailed for more than two days based on a bogus and false complaint by a security guard working for a local abortion facility in Michigan.  We are arguing that the unlawful arrest violates the First, Fourth, and Fourteenth Amendments.
* On November 20, AFLC Co-Founder and Senior Counsel Robert Muise argued before a three-judge panel of the U.S. Court of Appeals for the D.C. Circuit (Washington, D.C.) in our appeal challenging WMATA's (the DC metro authority) rejection of our clients' "Support Free Speech" ads depicting the winning entry of the draw Mohammed art contest.  The case presents critical First Amendment issues.  WMATA hired the former (Obama administration's) Solicitor General of the United States to argue on its behalf.
* On November 28, we took the deposition of Michael C. Taylor, the Mayor of Sterling Heights, Michigan, in our lawsuit seeking to stop the construction of a mega-mosque that was approved by the Mayor and City Council in violation of the law.  The City Planning Commission had previously denied the construction 9 to 0 because it did not comply with state and local zoning requirements.  The City Council reversed the decision to settle a bogus lawsuit filed by the Muslim organization and the Obama Department of Justice.  The proposed mosque location is in the middle of a Chaldean Christian neighborhood.  Many of the residents of the neighborhood fled Iraq because they were being persecuted by Muslims.  These Christians view the building of this mosque in their neighborhood as an act of aggression against their community, similar to what they experienced in Iraq.
* On November 30, we filed our reply brief in support of our request for a preliminary injunction in the case of McGhee v. City of Westland.  In this case, we are representing Pastor Dan McGhee, a pro-life demonstrator who was threatened with arrest by a City police officer due to the pastor's pro-life speech activity, which the officer considered "disturbing" and in violation of the City's ordinance prohibiting "unreasonably loud, disturbing or unnecessary" noise.  A hearing on our motion is scheduled for February 7 at the federal courthouse in Detroit, Michigan.
*Thank you for your prayers and financial support.  We couldn't do what we do without them!