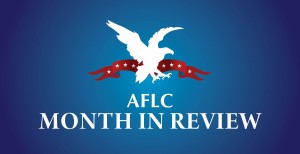 Here are the highlights for August 2017:
* On August 3, we entered our appearance in the case of People of the City of Westland v. Calvin John Zastrow.  In this criminal case, AFLC is representing Cal Zastrow, a pro-life demonstrator who was unlawfully arrested by police officers from the City of Westland, Michigan for allegedly disturbing the peace.  Upon making our appearance, we promptly filed a motion to dismiss the criminal charge on constitutional grounds.  On September 6, the City prosecutor dismissed all charges.
* On August 8, we took the deposition of the witness designated by the City of Westland, Michigan to testify on its behalf in our lawsuit filed against the City and several police officers who were involved in the unlawful arrest and two day detention of our client, Kimberley Thames, a pro-life demonstrator who was arrested based on a false claim that she made a bomb threat at the Northland Family Planning Center, a notorious abortion facility.  Thames spent two days in jail before she was eventually released, with no charges.
* On August 14, the federal district court for the District of Columbia denied CAIR's motion to strike our clients' designated experts in a case in which AFLC is representing five former clients of CAIR suing CAIR for fraud, breach of fiduciary duty, and consumer fraud.  CAIR filed its motion in an attempt to have the Court prevent our expert from testifying about CAIR's bona fides as a front group for the Muslim Brotherhood and Hamas.
* On August 16, we filed our opening brief in the U.S. Court of Appeals for the Sixth Circuit in a case where we are challenging the decision of the City of Sterling Heights, Michigan to enter into a consent judgment with the American Islamic Community Center  (AICC) in which the City is allowing AICC to build a mosque in a local residential community in violation of the zoning laws.
* On August 17, we filed an amicus curiae brief on behalf of seven national security experts (Andrew C. McCarthy, Center for Security Policy, Frank Gaffney, Dr. Robert J. Shillman, Admiral James "Ace" Lyons, Jr., U.S. Navy Retired, Lieutenant General William G. Boykin, U.S. Army Retired, and Ambassador Henry F. Cooper) in the United States Supreme Court in the case litigating the President's temporary travel ban.  In this brief, we argue that the president's temporary travel ban was a constitutional and statutorily permitted interim step before implementing a more thorough-going "extreme vetting" of potential jihadists.  The brief lays out the policy and legal basis for an extreme vetting of Islamists who advocate or adhere to a political ideology predicated upon Sharia supremacism.
* On August 22, 25, and 28, we took the depositions of three of the seven Plaintiffs suing Urth Caffe for allegedly discriminating against them for wearing hijabs.  The fraudulent claim by these young Muslim women was encouraged by the Hamas/Muslim Brotherhood front group, CAIR.  Representing Urth Caffe, AFLC filed a counterclaim against the women for trespass, and both cases are proceeding through the discovery stage in preparation for trial beginning on March 5, 2018.
* On August 31, we resolved an important First Amendment case against the federal government in favor of several pro-life demonstrators who were prevented from expressing their pro-life message outside of the National Museum of African American History and Culture in Washington, D.C.  The parties filed a stipulated dismissal in which the federal government formally acknowledged "that the public sidewalks forming the perimeter of the National Museum of African American History and Culture are available for First Amendment activity" and agreed to pay AFLC its attorneys' fees incurred for having to file the complaint.
Thank you for your prayers and financial support.  We couldn't do what we do without them!