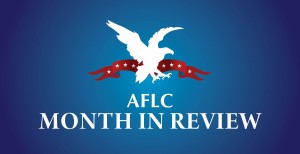 Here are the highlights for July 2017:
* On July 3, we filed a notice of appeal to the U.S. Court of Appeals for the Sixth Circuit, seeking review of the district court's order denying our request to preliminarily enjoin the construction of a mega-mosque in a largely Chaldean Christian neighborhood in Sterling Heights, Michigan.  In our lawsuit, we allege that the City violated its own zoning regulations by permitting the mosque construction, thereby granting the mosque special rights and privileges to the detriment of our clients, who live in the affected neighborhood.
* On July 10, we filed a supplemental brief in the U.S. District Court for the Western District of Washington (Seattle) in support of our motion for summary judgment in our case challenging King County's rejection of our clients' "Faces of Global Terrorism" ads.  The County claims that the ads, which showed the "faces" of the FBI's most wanted global terrorists, are demeaning toward Muslims.
* On July 19, we filed a supplemental brief on standing in our lawsuit against the City of Sterling Heights, challenging the construction of the mosque.  The presiding judge requested that the parties address the standing issue in a separate filing.
* On July 24, we filed our opening brief in the U.S. Court of Appeals for the D.C. Circuit in our case challenging WMATA's (the DC metro authority) rejection of our clients' "Support Free Speech" ads depicting the winning entry of the draw Mohammed art contest.  The case presents very important First Amendment issues.  WMATA hired the former Solicitor General of the United States to represent it in this appeal.
* On July 27 and 28 respectively, we took the depositions of two City of Westland, Michigan police officers who were involved in the unlawful arrest and two day detention of our client, Kimberley Thames, a pro-life demonstrator who was arrested based on a false claim that she made a bomb threat at the Northland Family Planning Center, a notorious abortion facility.  At the time of her arrest, Thames was on the public sidewalk with a pro-life sign and a Rosary praying for the protection of the unborn.  Thames was accompanied by a Catholic nun.  The "bomb threat" allegation was absurd on its face and was merely a pretext to arrest a pro-lifer.  Thames spent two days in jail before she was eventually released, with no charges.  We filed a federal civil rights lawsuit against the City, the Chief of Police and several police officers on behalf of Thames.
Thank you for your prayers and financial support.  We couldn't do what we do without them!