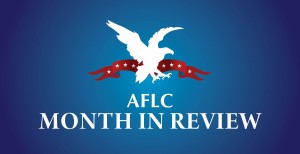 Here are the highlights for May 2017:
*On May 2, counsel for the parties had a scheduling conference with the presiding federal judge in Detroit in Thames v. City of Westland, the case in which we are representing a pro-lifer who was unlawfully arrested and jailed for over two days based on a false claim by a security guard at the Northland Family abortion facility that our client made a bomb threat.
*On May 11, we completed our initial case opening filings in the U.S. Court of Appeals for the D.C. Circuit in our case challenging on First Amendment grounds the Washington Metropolitan Area Transit Authority's (WMATA) rejection of an advertisement submitted by our clients, Pamela Geller and Robert Spencer.  The ad depicted the winning entry of the draw Mohammad cartoon contest held by Geller and Spencer in Garland, Texas.
*On May 12, we filed an opposition brief and on May 26, we filed a reply brief in support of our request that the presiding federal judge dismiss the dangerous lawsuit filed by CAIR and the ACLU in which they claim that the owners of an Oklahoma gun range engaged in unlawful religious discrimination when they prevented someone who is associated with an organization that has ties to terrorism (CAIR) from shooting at their range.
*Also, on May 22, the magistrate judge assigned to our Oklahoma case recommended that the federal judge deny the motion filed by CAIR and the ACLU in which they requested that our clients "admit" that there is no connection between CAIR and terrorism.  To defeat the motion, we relied on the extensive public record demonstrating otherwise.
*On May 18, we filed our reply brief in the U.S. Court of Appeals for the D.C. Circuit in our case challenging Section 230 of the federal Communications Decency Act, which provides immunity from lawsuits to Facebook, Twitter, and YouTube, thereby permitting these social media giants to engage in government-sanctioned censorship and discriminatory business practices free from legal challenge.  The lawsuit was brought on behalf of the American Freedom Defense Initiative (AFDI), Pamela Geller, Robert Spencer, and Jihad Watch, all of whom have been censored by social media for engaging in speech that is critical of Islam.
*On May 31, we filed our reply in support of our petition for writ of certiorari to the U.S. Supreme Court in our case challenging the outrageous censorship of a Christian public school teacher.  We are asking the High Court to review this important case.
*This month we continued our exhaustive "discovery" in the case in which we are defending Urth Caffe of Laguna Beach, California from a bogus lawsuit filed by seven women claiming they were subjected to religious discrimination when the café management asked them to leave because the women refused to abide by the café's seating policy.  The women later made the fraudulent claim that they were evicted from the café because they wore hijabs—Islamic head coverings worn by some Muslim women.  We are counter-suing the women for trespass.
*This month, we also continued making court filings in the so-called "Muslim Mafia" case in which our clients are being sued by CAIR for conducting undercover recordings at CAIR's offices to be used in a documentary our clients were preparing on the Muslim Brotherhood.  We are preparing the case for trial in the U.S. District Court in Washington, D.C.
Thank you for your prayers and financial support.  We couldn't do what we do without them!