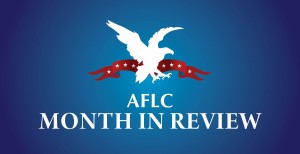 Here are the highlights for April 2017:
*On April 7, we filed a notice of appeal to the U.S. Court of Appeals for the D.C. Circuit, asking the court to reverse a lower court decision that upheld the Washington Metropolitan Area Transit Authority's (WMATA) rejection of an advertisement submitted by our clients, Pamela Geller and Robert Spencer.  The ad depicted the winning entry of the draw Mohammad cartoon contest held by Geller and Spencer in Garland, Texas.  We are challenging WMATA's rejection on First Amendment grounds.
*On April 19, we filed a response to the "Statement of Interest" filed by the Department of Justice in our case challenging the legality of a consent judgment entered into between the City of Sterling Heights, Michigan and the American Islamic Community Center, Inc. (AICC), which permits AICC to build a mega-Mosque in violation of the City's zoning ordinance.  We are challenging the legality of this consent judgment on behalf of several City residents who will be harmed by the construction of this mosque in their residential neighborhood.  DOJ's statement urges the Michigan federal court to reject our challenge to the unlawful consent judgment.  Our response effectively dismantled the DOJ's arguments.
*Also on April 19, we filed a response to AICC's "Brief of Amicus Curiae," which, like the DOJ, urges the court to reject our challenge.  The weakness of AICC's arguments and its lack of supporting evidence were quite revealing and further illustrate that there was no basis for the City to enter into the unlawful consent judgment.
*On April 28, we asked a federal judge in Oklahoma to dismiss the dangerous lawsuit filed by CAIR and the ACLU, in which they claim that preventing someone who is associated with an organization that has ties to terrorism (CAIR) from shooting at a gun range constitutes unlawful religious discrimination under federal and state law.  We filed a lengthy legal brief in support of our request.
*In April, we began the discovery process in Thames v. City of Westland, the case in which we are representing a pro-lifer who was unlawfully arrested and jailed for over two days based on a false claim by a security guard at the Northland Family abortion facility that our client made a bomb threat.
*In April, we also began the discovery process in our lawsuit filed against several officials from the State University of New York at Buffalo ("SUNY-Buffalo") on behalf of the Center for Bio-Ethical Reform, Inc.—a pro-life group whose free speech activity was disrupted by "pro-choice" students while university officials, including its chief of police, stood idly by allowing the disruption to occur.  Earlier this year, the court ruled in our favor on the University's motion to dismiss, holding that our lawsuit advanced valid constitutional claims against the officials.
*This month, we also made multiple court filings in the so-called "Muslim Mafia" case in which our clients are being sued by CAIR for conducting undercover recordings at CAIR's offices to be used in a documentary our clients were preparing on the Muslim Brotherhood.  The case is getting ready to go to trial in the U.S. District Court in Washington, D.C.
Thank you for your prayers and financial support.  We couldn't do what we do without them!