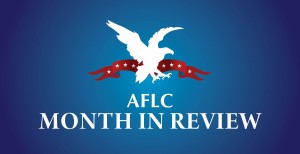 Here are the highlights for March 2017, which was a very busy month, as you can see:
* On March 6, we filed our opening brief in the U.S. Court of Appeals for the D.C. Circuit in a federal lawsuit challenging Section 230 of the Communications Decency Act (CDA) under the First Amendment.  Section 230 provides immunity from lawsuits to Facebook, Twitter, and YouTube, thereby permitting these social media giants to engage in government-sanctioned censorship and discriminatory business practices free from legal challenge.
The lawsuit was brought on behalf of the American Freedom Defense Initiative (AFDI), Pamela Geller, Robert Spencer, and Jihad Watch.
* Also on March 6, AFLC Co-Founder and Senior Counsel David Yerushalmi was in Texas state court arguing a motion we filed seeking sanctions against the attorney who filed the meritless lawsuit on behalf of the father of "Clock Boy," who alleged that our clients (the Center for Security Policy and Jim Hanson) defamed his son.  The court granted our motion to dismiss and awarded us attorneys' fees.  We were now going after the attorney.
*On March 7, we filed a motion for summary judgment, asking a federal judge sitting in the U.S. District Court for the Western District of Washington to rule that King County, Washington violated the First Amendment by rejecting two "Faces of Global Terrorism" ads submitted by our clients, Pamela Geller, Robert Spencer, and their organization, AFDI.
The County's principal objection to the ads is that they allegedly "demean or disparage" Muslims.  (On March 27, we filed our opposition to the County's motion for summary judgment, and on March 31, we filed our reply).
* On March 13, we filed a civil rights lawsuit against the City of Sterling Heights, Michigan, and its Mayor, Michael C. Taylor, alleging violations of federal and state law.  The lawsuit was filed in the U.S. District Court for the Eastern District of Michigan on behalf of seven residents of the City who oppose the construction of a Mosque in their largely Chaldean Christian neighborhood.
Last month, the City decided not to defend against the specious claims made by the American Islamic Community Center (AICC) in its lawsuit filed against the City in August 2016, but instead to enter into a Consent Judgment that granted AICC permission to build the Mosque even though doing so violated the City's zoning ordinance.  The decision to enter into the Consent Judgment was made during a City Council meeting held on February 21, 2017.  During this meeting, the City Mayor engaged in conduct that we allege in our lawsuit violated the U.S. Constitution and the Michigan Open Meetings Act.
* On March 14, a federal judge sitting in the U.S. District Court for the Eastern District of Michigan entered judgment in the case of Thames v. City of Westland on our claims against the Northland Family Planning Clinic, its CEO, Renee Chelian, and one of its employees for conspiring with City of Westland police officers to violate the civil rights of Kimberley Thames, a pro-life advocate who was falsely arrested and imprisoned.
The judgment was also entered in Ms. Thames' favor on her claims that these defendants are liable for false arrest and imprisonment under Michigan law and that Renee Chelian defamed her in a subsequent Facebook post.
Pursuant to the judgment, these defendants will pay Ms. Thames approximately $2,000.
* On March 21, we filed a lengthy pretrial statement in our litigation against CAIR that is often referred to as the Muslim Mafia case.  In this case, CAIR sued Dave and Chris Gaubatz after Dave Gaubatz published the result of his son's covert internship with CAIR in the book Muslim Mafia.  AFLC's clients, the Center for Security Policy and certain of its employees, were also sued insofar as the original impetus for the covert internship was a CSP documentary on the Muslim Brotherhood in America.  The parties are preparing for a trial, likely sometime in early 2018.
* On March 22, AFLC Co-Founder and Senior Counsel Robert Muise was a guest lecturer at the University of Michigan.  Muise lectured to a largely liberal student body in a Law and Public Health course.  The title of his lecture was "Reproductive Rights – A Pro-Life Perspective."
* On March 24, the U.S. Supreme Court directed the School District to file a response to our petition for a writ of certiorari filed on behalf of a Christian teacher whose speech was censored by School District officials.  The case is Silver v. Cheektowaga Central School District.  The School District had filed a waiver, so the Court's order signals an interest in this case.
* During the week of March 24, David Yerushalmi was in Washington, D.C., defending the deposition of our counter-intelligence expert, Stephen Coughlin, and taking the depositions of the "experts" named by CAIR and the ACLU in the lawsuit in which we are defending owners of an Oklahoma gun range who refused to permit a CAIR-Oklahoma board member from shooting at their range due to CAIR's ties with terrorism.  CAIR and the ACLU are claiming religious discrimination.  The CAIR/ACLU "experts" included a Muslim Harvard Law professor and a former FBI agent.
Thank you for your prayers and your financial support.  We couldn't do what we do without them!
God bless you, and may God continue to bless America!
Please remember to "like" us on Facebook and follow us on Twitter!