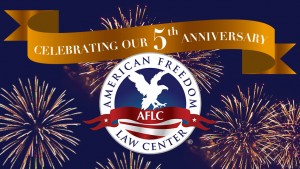 Today (January 23), the American Freedom Law Center is celebrating its five-year anniversary!
It's hard to believe that it has been five years since David Yerushalmi and Robert Muise launched AFLC, which has become (in the words of National Review columnist Andrew C. McCarthy) "the leading public interest law firm fighting . . . in America."
There is no other public interest law firm that has been as effective against the enemies of freedom, particularly those enemies who engage in what the Muslim Brotherhood itself describes as "civilization jihad."
Indeed, you don't have to take our word for it.  The largest Muslim Brotherhood organization operating here in America (the Council on American-Islamic Relations or CAIR) lists AFLC as one of its top enemies (and the only public interest law firm with that distinction).
And the radical, hard-core leftist Southern Poverty Law Center recently listed AFLC's co-founders on their top "anti-Muslim" list.
At AFLC, we understand that this is an existential battle for our constitutional republic and not just a sterile academic exercise over what judges and law professors believe the law should be.
Here are some of AFLC's significant achievements:
AFLC represented Priests for Life before the U.S. Supreme Court in one of the most important religious liberty battles of our time.  The Supreme Court reversed the adverse decision we were challenging.
AFLC won and established precedent in one of the most crucial First Amendment cases litigated in the past decade, and it was an en banc (full court) decision by a U.S. court of appeals—a rarity.
AFLC has represented clients and litigated cases in state and federal courts in Arizona, Arkansas, California, Colorado, Florida, Illinois, Massachusetts, Michigan, New Hampshire, New York, Ohio, Oklahoma, Pennsylvania, Tennessee, Texas, Virginia, Washington, and Washington, D.C.
AFLC has argued cases in the U.S. Courts of Appeals for the First, Second, Sixth, Ninth, Tenth, D.C., and Federal Circuits.
And we are only getting stronger, thanks in large part to your prayers and support!
All of us at AFLC pledge to all of you that we will continue to battle the enemies of life and liberty at every legal turn and in every courthouse corner.
We join you in praying for this great nation's continued success and prosperity and assure you that we will not rest or give leave to those who seek to undermine our liberties or to lessen our resolve.
May God bless you and may God bless the United States of America!