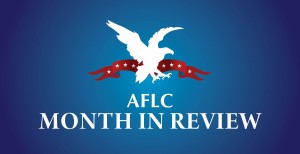 Here are the highlights for December 2016:
* On December 5, we filed a motion in a Dallas, Texas court seeking dismissal of the defamation lawsuit filed against our clients, the Center for Security Policy and Jim Hanson, by Mohamed Mohamed on his own behalf and on behalf of his 15-year old son, Ahmed Mohamed.
Ahmed is better known as "Clock Boy" for bringing a hoax clock bomb to his Irving, Texas middle school in September 2015 and causing a bomb scare that led to his arrest and suspension from school.
The Clock Boy's lawsuit seeks unspecified damages from our clients and various media companies and personalities, such as Glenn Beck, the Glenn Beck Show, and the local Fox News station, for publicly commenting on the hoax bomb affair.
Our motion to dismiss also requests the court to award us attorneys' fees and to sanction Clock Boy's father for filing a meritless lawsuit whose only purpose is to silence those who might speak out publicly against Islam.
* On December 16, we filed a "writ of mandamus" in the U.S. Court of Appeals for the Second Circuit (New York City), requesting that the appellate court issue an order directing a federal court judge to essentially do his job and rule on a motion that has been pending in his court for more than two and a half years.  This case, which is being held in abeyance by the court's inaction, involves a lawsuit we filed on behalf of our clients, the Center for Bio-Ethical Reform, Inc., Gregg Cunningham, and others, against SUNY-Buffalo.  A writ of mandamus is an extraordinary proceeding; however, because this case implicates important First Amendment rights, our clients remain irreparably harmed by the District Court's inaction.
* On December 19, we issued a subpoena and discovery request upon the expert witness identified by King County in our lawsuit brought against the County on behalf of AFDI, and its founders, Pamela Geller and Robert Spencer, because the County refused to display our clients' anti-terrorism ads.  We will be taking the deposition of the County's expert, who intends to opine that the County's rejection of the ads was "reasonable."
* On December 26, we published an article titled, Islam: Good or Bad for Women (and Others)? Let History Judge, and on December 30, we published an article titled, The Obama Administration—A Foreign Policy Disaster.
* Throughout December we have been working on our motion for summary judgment in the lawsuit filed by CAIR and the ACLU against our clients—the owners of a gun range in Oklahoma which refused to allow a CAIR board member to use the range due to CAIR's ties to terrorism.  The owners don't want to be responsible for training the next Islamic terrorist.  CAIR and the ACLU claim that this is religious discrimination that violates federal and state law.  We disagree.
* Throughout December we have also been working on pretrial matters (jury instructions, exhibits, witness lists, etc.) in the "Muslim Mafia" case, which will be going to trial in 2017.
* In December, we served copies of the summonses and complaint on all of the defendants in our lawsuit filed against the City of Westland, Michigan, the Northland Family Planning Center, and several others on behalf of Kimberley Thames, a peaceful, pro-life advocate who was unlawfully arrested and imprisoned for nearly 3 days for doing nothing more than engaging in protected, free speech activity outside of the Northland abortion facility.
Thank you for your prayers and your financial support.  We couldn't do what we do without them!
God bless you, and may God continue to bless America!
Please remember to "like" us on Facebook and follow us on Twitter!