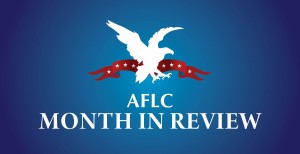 Here are the highlights for September 2016:
* On September 5, we filed a cross motion for summary judgment in our lawsuit against the Washington Metropolitan Area Transit Authority (WMATA) for refusing to run a "Support Free Speech" advertisement that depicted the winning entry of the "Draw Mohammad Contest" previously held in Garland, Texas.  The lawsuit was filed in the United States District Court for the District of Columbia (Washington, D.C.) on behalf of the advertisement's sponsors, the American Freedom Defense Initiative (AFDI) and its co-founders, Pamela Geller and Robert Spencer.
*On September 16, we were retained by a pro-life demonstrator who was falsely accused of making a terrorist threat.  The demonstrator was simply holding a pro-life sign and silently praying outside of an abortion facility when she was suddenly arrested and jailed for nearly three days for doing nothing but engaging in constitutionally protected activity.  We are preparing our civil rights lawsuit and will be seeking compensatory as well as punitive damages against the false accusers, the City, and the police who unlawfully arrested her.
* On September 19, we submitted comments to the U.S. Department of Health and Human Services on behalf of Priests for Life in response to the federal government's Request for Information regarding possible changes to the HHS Mandate and its application to objecting religious organizations.  The government sought this information following the Zubik decision by the U.S. Supreme Court which vacated (nullified) all of the adverse lower court decisions.  We are representing Priests for Life in Priests for Life v. U.S. Department of Health & Human Services, which was one of the seven consolidated cases before the Supreme Court.
* On September 20, we honored three deserving "freedom fighters" at our Freedom Fighter Award Dinner held at the Inn at St. John's in Plymouth, Michigan.  Father Frank Pavone, an award recipient and the national director of Priests for Life, gave an inspiring speech that drew a standing ovation from the large crowd in attendance.
* On September 21, the father of the infamous "Clock Boy" from Texas sued a host of media figures, politicians, and public policy analysts for publicly commenting on the alarm clock dressed up as a "hoax bomb" and more specifically on the connection to the Muslim Brotherhood's effort to further a Muslim victim narrative to advance the Brotherhood's Civilizational Jihad.  Included as defendants are the Center for Security Policy and one of its senior executives, Jim Hanson, who had appeared on the Glenn Beck show.  Not surprisingly, Glenn Beck was also named as a defendant.  Jim Hanson and CSP quickly retained Robert Muise of AFLC to represent them along with AFLC's David Yerushalmi, who separately represents CSP as its general counsel.
* On September 28, a federal judge in the U.S. District Court for the Eastern District of Michigan entered final judgment in favor of a group of Christian evangelists who were violently attacked by a hostile Muslim mob while preaching at the Arab Festival in Dearborn, Michigan in 2012.  The case, Bible Believers v. Wayne County, was brought by AFLC on behalf of the Christians.  As a result of this judgment, Wayne County agreed to pay $197,500 in attorneys' fees and costs.
*Also on September 28, the federal government moved to dismiss our lawsuit filed against the Attorney General of the United States, Loretta Lynch, in which we are challenging Section 230 of the Communications Decency Act (CDA) under the First Amendment.  Section 230 provides immunity from lawsuits to Facebook, Twitter, and YouTube, thereby permitting these social media giants to engage in government-sanctioned censorship of free speech.  The government is arguing that we lack standing and that there is no state action.  We fully anticipated these arguments and will be filing a lengthy response by October 12.
* Throughout September we were engaged in discovery battles with the ACLU and the Council on American-Islamic Relations (CAIR) in the case in which we are defending the owners of an Oklahoma gun range who refused to allow a Muslim (who happened to be a CAIR board member who showed up at the range with a hidden recording device in order to set up this lawsuit) to shoot at their range for fear of his ties to terrorism.
Thank you for your prayers and your financial support.  We couldn't do what we do without them!  God bless you, and may God continue to bless America!