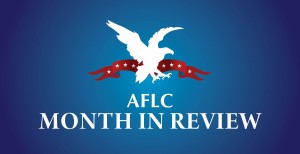 Here are the highlights for August 2016:
* We commenced our preparation for trial in the CAIR v. Gaubatz case, which will likely go before a jury in Washington, D.C. sometime next year.  In this case, we are defending the Center for Security Policy (CSP) and several of its employees who were sued by CAIR for conducting an undercover documentary designed to expose the Islamic organization's nefarious activities.  It has been called the "Muslim Mafia" case.
*On August 2, we served the Attorney General of the United States, Loretta Lynch, with our lawsuit challenging Section 230 of the Communications Decency Act (CDA) under the First Amendment.  Section 230 provides immunity from lawsuits to Facebook, Twitter, and YouTube, thereby permitting these social media giants to engage in government-sanctioned censorship of free speech.  The government must respond to our lawsuit by October 3.
* We have been working on discovery and motion practice in our case defending the Urth Caffe in Laguna Beach, and its owners against a fraudulent lawsuit filed by seven Muslim women who are claiming religious discrimination.
* On August 11, we attended telephonically a hearing in California at which the court heard oral arguments in Nussbaum v. Vargas on the defendants' demurrer (request to dismiss) and motion to strike certain allegations from the complaint. At the hearing, the court ruled in favor of our client Professor Denise Nussbaum, permitting her to file a second amended complaint in order to clarify certain of her allegations of assault and retaliation.
* We continue to press government officials to develop an acceptable resolution to our challenge to the HHS mandate following the Zubik decision by the U.S. Supreme Court.  We are representing Priests for Life in Priests for Life v. U.S. Department of Health & Human Services, which was one of the seven consolidated cases before the Supreme Court.
* We continue to work on discovery in our case defending Chad and Nicole Neal, who were sued by CAIR and the ACLU because they wouldn't allow someone they reasonably believed was a safety threat to use Nicole's Oklahoma gun range.  The person was a Muslim (and a CAIR board member), and CAIR and the ACLU are claiming that it was unlawful religious discrimination.
* On August 17, we agreed to represent a group of pro-life sidewalk counselors who are being harassed and intimidated by "security" personnel and "escorts" at an abortion facility in Detroit, Michigan.
* We are making our final preparations for our Freedom Fighter Award Dinner, scheduled for September 20 at the Inn at St. John's in Plymouth, Michigan.  Seats are limited, and the deadline to reserve your seat is September 15.
Thank you for your prayers and your financial support.  We couldn't do what we do without them!  God bless you, and may God continue to bless America!
Please remember to "like" us on Facebook and follow us on Twitter!