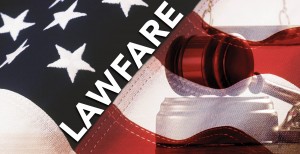 Attorney Larry Klayman has filed a lawsuit on behalf of families of two of the Americans murdered during the Benghazi jihad attack. We were going to blog about this frivolous lawsuit, but this opinion piece by a Fox News Anchor and former defense attorney says it all:
http://www.foxnews.com/opinion/2016/08/09/families-lawsuit-against-clinton-over-benghazi-doesnt-hold-up.html
We have noted in many different fora, including a short book on the subject, that lawfare—the use of the courts and litigation to affect public policy—is an important tool in the battle to save our constitutional Republic.  Indeed, we believe it is one of the most important—precisely because it provides one of the most level of playing fields, with due process, rules of evidence, public transparency, and appellate review.
Keep in mind that the Left-Progressives and the civilizational jihad groups like the Muslim Brotherhood use lawfare as a lawless tool, counting on ideologically corrupt judges to rule in their favor, all with an eye toward the destruction of our constitutional Republic.
This distinction is key.  Lawfare, like any weapon of war, may be used to protect good or to promote evil.  We know what the Progressive and Muslim Brotherhood types are doing with the law and our courts. We confront the evidence of this abuse daily.
Yet another problem we face as conservative litigators, however, is that there are those pseudo-conservatives who use the law and the courts abusively in the same way the Progressives and Brotherhood types do.  They launch specious and frivolous lawsuits, garner headlines, and raise literally millions of dollars from the unsuspecting conservative public on the basis that only they are fighting the legal fights that need to be fought (e.g., suing Hillary Clinton), only to have these cases booted in the earliest phases on a motion to dismiss without any chance to at least force the other side to engage in discovery where any good lawfare litigator seeks to find the skeletons.
When such lawsuits are tossed out of court unceremoniously, they tend to do far more harm than good because the main stream media and the social media echo-chamber play up these dismissals as vindication of the evil as good.
Lawfare is not a blunt instrument, and when it is used for personal financial short-term gain, it is as abusive as when it is used by the Progressive-Muslim Brotherhood juggernaut.