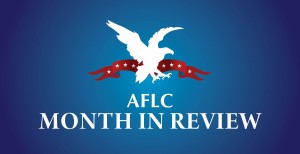 Thanks to your continued support, June was another busy and productive month at AFLC.  Here are the highlights:
* On June 1, AFLC Co-Founder and Senior Counsel David Yerushalmi appeared in federal court in Washington, D.C. for a status conference in our case challenging WMATA's rejection of our clients' (AFDI/Pamela Geller/Robert Spencer) "Free Speech" advertisement.
* On June 8, AFLC Co-Founder and Senior Counsel Robert Muise traveled to California for our lawsuit seeking to defend our clients' (CBR and Gregg Cunningham) right to free speech under the California Constitution.
* On June 10, we served discovery and on June 17, we filed our joint status report in our legal challenge to King County's (Seattle, Washington) rejection of our clients' (AFDI/Pamela Geller/Robert Spencer) "Faces of Global Terrorism" ad.  We filed an amended complaint in this case.
* On June 14, Robert Muise was in federal court in Oklahoma, appearing at a scheduling conference with the judge and opposing counsel in our case defending owners of an Oklahoma gun range who were sued by CAIR (and the ACLU) because the owners didn't want someone they suspected was a terrorist to shoot at their facility.  CAIR is claiming that this is religious discrimination.
* On June 16, the U.S. District Court for the District of Columbia (Washington, D.C.), granted our request for a preliminary injunction on behalf of our clients, Johnson Welded Products (JWP) and Ms. Lilli Johnson, the President of JWP, in our challenge to the so-called "accommodation" of the HHS mandate as applied to closely-held, for profit companies.
* On June 20, CAIR released its "Confronting Fear" report, and the American Freedom Law Center is proud to announce that, once again, it made CAIR's "hit list" as one of the "inner core" Islamophobia groups operating in America today.
* On June 21, the D.C. Circuit unanimously reversed a trial court's ruling dismissing a fraud case we brought against CAIR.  The result of the appellate court's ruling is that CAIR National, operating out of Washington, D.C., must stand trial and allow a jury to hear all of the evidence of the massive fraud and attempted cover up carried out by CAIR and perpetrated against hundreds of CAIR fraud victims, many of whom are Muslim.
* On June 22, we responded on behalf of our clients, the Urth Caffe in Laguna Beach, California, and its owners, to a fraudulent lawsuit filed by seven Muslim women claiming religious discrimination by countersuing the women for trespass and alleging abuse of process.  This case has received a lot of media attention and was featured on the Mark Levin radio program.
* Following the U.S. Supreme Court's decision in Zubik v. Burwell (our case filed on behalf of Priests for Life was one of the seven consolidated cases before the Court), the parties have been continuing to evaluate appropriate next steps per the Court's instructions.
Thank you for your prayers and your financial support.  We couldn't do what we do without them!  God bless you, and may God continue to bless America!
Please remember to "like" us on Facebook and follow us on Twitter!