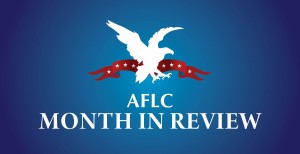 It has been quite busy here at AFLC.  So busy in fact that we neglected to send out our April "month in review"!  Consequently, we are combining April and May into this one report.
*On April 5, AFLC Co-Founder and Senior Counsel Robert Muise presented oral argument before the U.S. Court of Appeals for the D.C. Circuit in Washington, D.C. in our case challenging President Obama's unlawful executive orders.
*On April 6-7, AFLC Co-Founder and Senior Counsel David Yerushalmi was in California taking and defending depositions in our lawsuit seeking to defend our clients' (CBR and Gregg Cunningham) right to free speech under the California Constitution.
*On April 12, we filed our supplemental brief in the U.S. Supreme Court in our challenge to the HHS Mandate on behalf of Priests for Life.  Following oral argument, which was held March 23, the high court asked the parties to file supplemental briefs, which was a positive development.
*On April 13, David Yerushalmi was in Washington, D.C., taking depositions in our case challenging WMATA's rejection of our clients' (Pamela Geller and Robert Spencer) "Free Speech" ad.
*On April 14, we filed our "answer" (official response) to the Complaint filed by CAIR against our clients, Chad and Nicole Neal, because they wouldn't allow someone they reasonably believed was a safety threat to fire his weapon at Nicole's Oklahoma gun range.  The person was a Muslim (and a CAIR board member), and CAIR is claiming that it was unlawful religious discrimination.
*On April 28, a federal judge in the U.S. District Court for the Eastern District of Michigan denied Wayne County's request to block us from taking discovery on the question of whether the County should also be liable in the Bible Believers case for violating our clients' constitutional rights.  The U.S. Court of Appeals for the Sixth Circuit, sitting en banc (full court, 15 judges), ruled last October that our clients' constitutional rights were violated and the individual officers were liable.
*On April 29, we filed a First Amended Complaint against King County for denying a revised "Faces of Global Terrorism" bus ad sponsored by Pamela Geller and Robert Spencer.  The County rejected the first ad, claiming, in part, that the ad contained "false and misleading" information.  The ad was revised to remove any such claim, but was yet again rejected.  The County is claiming that the revised ad is also "demeaning and disparaging" toward Muslims.
*On May 3, Urth Caffe in Laguna Beach, California, retained the American Freedom Law Center to respond to a fraudulent lawsuit filed against the cafe by a group of Muslim women who falsely claim they were discriminated against because they were wearing hijabs (a head scarf worn by Muslim women).  CAIR is behind this lawsuit.
* On May 10, Robert Muise was the keynote speaker at an event hosted by the Wichita, Kansas Legatus Chapter.  Muise's topic was "Fighting for Faith and Freedom."
* On May 16, the U.S. Supreme Court issued its opinion vacating the adverse decisions of the Courts of Appeals against Priests for Life and the other petitioners who are challenging the HHS mandate (Priests for Life v. U.S. Dep't of HHS, part of Zubik v. Burwell) on religious freedom grounds.
*On May 16, the U.S. Supreme Court also denied Wayne County's petition for writ of certiorari, which asked the high court to review and reverse the Bible Believers case.  The denial ends any further substantive challenges to this important First Amendment ruling won by AFLC before the en banc Sixth Circuit.
* On May 22, Robert Muise was the commencement speaker at a Michigan Catholic high school graduation.  Muise's speech was greeted with a standing ovation.
Thank you for your prayers and financial support.  We couldn't do what we do without them!  God bless you, and may God continue to bless America!
Please remember to "like" us on Facebook and follow us on Twitter!