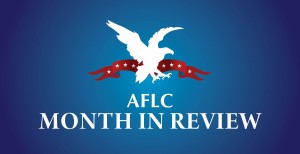 We are pleased to report to you our highlights for the month of March:
*On March 9, we announced the 2016 recipients of the AFLC Freedom Fighter Award.  The awards will be presented at the 2016 Freedom Fighter Award Dinner to be held on September 20, 2016 at the beautiful Inn at St. John's in Plymouth, Michigan.  Seats are limited, so please contact us if you would like to attend!
*On March 17, we filed a motion for summary judgment on behalf of the Center for Bio-Ethical Reform, Inc. and its executive director, Gregg Cunningham, in a case seeking to protect our clients' right to engage in pro-life speech at private shopping centers in Orange County, California.  Under the California Constitution, private shopping centers are prohibited from unduly restricting the right to freedom of speech.  The motion is asking a California state court to rule in favor of our clients as a matter of law.
*On March 18, AFLC's senior counsel were in federal court in Washington, D.C. in the "Muslim Mafia" case.  The court held a status conference with all counsel in preparation for the case going to trial.
*On March 23, the U.S. Supreme Court heard arguments in our challenge to the HHS Mandate filed on behalf of Priests for Life.  Our case was one of the 7 consolidated cases heard that day (along with Little Sisters of the Poor, Catholic University, and others).
*On March 24, we filed a federal lawsuit in the U.S. District Court for the District of Columbia (Washington, D.C.), challenging the HHS Mandate and its so-called "accommodation" on behalf of Johnson Welded Products, Inc., a closely-held, for profit company, and its president, Ms. Lili Johnson.
*We stepped in to protect Professor Denise Nussbaum from leftist, anti-Jew and anti-Israel faculty at a Mount San Jacinto College in Riverside, California.  On March 30, we filed an amended complaint to add the College and its senior administrators to a lawsuit that seeks substantial damages after Professor Nussbaum, at the time a tenured full professor and Chair of the Sociology Department, was physically assaulted by Professor Gary Vargas during a heated discussion about Israel.  After Professor Nussbaum filed her complaints for assault against Vargas, the College and its administrators circled the wagons and corrupted the investigation to protect Vargas.
*On March 31, we filed our reply brief in the U.S. Court of Appeals for the Second Circuit (New York) on behalf of Joelle Silver, a public school teacher and devout Christian who was forced by Cheektowaga (Buffalo) Central School District officials to censor her personal speech and remove all religious content from her classroom under threat of being fired.
Please remember to "like" us on Facebook and follow us on Twitter!
Thank you for your prayers and your financial support.  We couldn't do what we do without them!  God bless you, and may God continue to bless America!