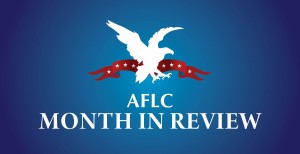 We are pleased to report to you our highlights for the month of February:
* On February 1, AFLC filed an amicus curiae ("friend of the court") brief in the U.S. Supreme Court in support of Texas' right to adopt medical regulations that have the purpose and effect of protecting women from the harmful effects of abortion.  The brief was filed on behalf of Priests for Life, a pro-life organization, and it highlights the Silent No More Awareness Campaign.  The brief presents to the Court the compelling testimonies of women who were harmed by abortion.
* On February 12, AFLC Senior Counsel David Yerushalmi presented oral argument before the U.S. Court of Appeals for the D.C. Circuit on behalf of several former clients of the Council on American-Islamic Relations (CAIR), including Muslim clients, who were the victims of a massive fraud and cover-up perpetrated by CAIR.
* On February 17, AFLC was retained by Chad Neal, a disabled Iraq war veteran, and his wife Nicole to defend them against a lawsuit brought by CAIR and the ACLU on behalf of a sharia-adherent Muslim who claims that he was denied service at the Neal's Oklahoma firing range because of his religion and that this type of discrimination is prohibited by local and federal law.  As AFLC will demonstrate, this case is about public safety and not religious discrimination.  The Neal's justifiably feared for their safety and the safety of the community.
* Also on February 17, AFLC Senior Counsel Robert Muise gave a presentation on "Fighting for Faith and Freedom" to an organization of Catholic businessmen in Ann Arbor, Michigan.
* On February 19, we filed our opening brief in the U.S. Court of Appeals for the Second Circuit in New York on behalf of Joelle Silver, a public school teacher and devout Christian who was forced by Cheektowaga (Buffalo) Central School District officials to censor her personal speech and remove all religious content from her classroom under threat of being fired.
* During February, we continued depositions in our case filed in California on behalf of Gregg Cunningham and his pro-life organization, the Center for Bio-Ethical Reform (CBR).  We are defending our clients' right to free speech protected under the California Constitution, which permits CBR to engage in expressive activity in large private shopping malls in California in an effort to urge shoppers to boycott business that donate to Planned Parenthood.
* We continue to use mainstream and social media in our efforts . . . and ask that you assist us with this important endeavor by "liking" us on Facebook and following us on Twitter (and asking your friends to do the same)!
Thank you for your prayers and your financial support.  We couldn't do what we do without them!  God bless you, and may God continue to bless America!