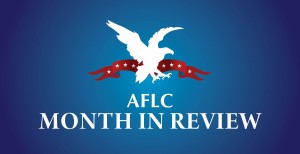 We are pleased to report to you our highlights for January:
* On January 4, we filed our opening merits brief in the U.S. Supreme Court in our case challenging the HHS mandate and its so-called "accommodation" on behalf of Priests for Life.  The "accommodation" is the way in which the Obama administration is forcing non-exempt, nonprofit religious organizations to comply with the immoral mandate.  The Court has set oral argument for March 23.
* On January 5, we filed our reply brief in support of our request that the U.S. Supreme Court review a decision of the U.S. Court of Appeals for the Ninth Circuit which upheld a government transit authority's rejection of our clients' "Faces of Global Terrorism" ad.  The ad sponsors are AFDI, Pamela Geller, and Robert Spencer.
* On January 11, we filed a notice of appeal to the U.S. Court of Appeals for the Second Circuit in our case defending the constitutional rights of a public school teacher in Buffalo, New York, who was censored for expressing her Christian faith.
* On January 15, AFLC Co-Founder and Senior Counsel David Yerushalmi presented oral argument before the U.S. Court of Appeals for the Second Circuit on behalf of Geller, Spencer, and their non-profit organization, AFDI, in their appeal of a federal district court's ruling that "dissolved" the court's earlier order requiring the New York City's Metropolitan Transportation Authority (MTA) to run their "Hamas Killing Jews" advertisement.
* On January 16, AFLC Co-Founder and Senior Counsel Robert Muise gave a presentation on "Fighting for Faith and Freedom" before a full house at Our Lady of Mt. Carmel church in Indiana.
* During the month of January, we assisted several Christians who want to continue operating their businesses consistent with their Christian faith (i.e., they want their wedding venues to be used for traditional weddings only).
* In January, we commenced depositions in our case filed in California state court on behalf of Gregg Cunningham and his pro-life organization, the Center for Bio-Ethical Reform (CBR).  In this case, we are defending our clients' right to free speech protected under the California Constitution, which permits CBR to engage in expressive activity in large private shopping malls in California in an effort to urge shoppers to boycott businesses that donate to Planned Parenthood.
* We continue to use mainstream and social media in our efforts . . . and ask that you assist us with this important endeavor by "liking" us on Facebook and following us on Twitter (and asking your friends to do the same)!
Thank you for your prayers and your financial support.  We couldn't do what we do without them!  God bless you, and may God continue to bless America!