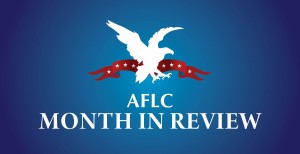 We are pleased to report to you our highlights for the month of December:
On December 17, a federal judge sitting in the United States District Court for the District of Columbia, denied the Council on American-Islamic Relation's (CAIR) motion to reopen discovery in what has become known as the Muslim Mafia Trial.  In this case, CAIR sued the Center for Security Policy (CSP), and others, for working on a documentary designed to expose CAIR's Muslim Brotherhood-Hamas ties and other illegal activities.  We are representing CSP and several other defendants in this case.
On December 22, the Federal Circuit Court of Appeals, sitting en banc (the entire court), reversed more than 30-years of jurisprudence by holding that trademark registration under the Lanham Act deserves First Amendment protection.  The import of this holding is that trademarks may no longer be rejected by the United States Patent and Trademark Office ("USPTO") just because the USPTO believes the mark to be disparaging.  What made this decision possible was the recent litigation we waged on behalf of Pamela Geller and Robert Spencer to register their trademark, "Stop the Islamisation of America" ("SIOA").  The USPTO rejected the SIOA trademark on the ground that it disparaged Muslims and even Islamists by suggesting they should be "stopped."  The court's opinion starts off referencing the USPTO's rejection of the SIOA trademark as a rejection aimed improperly at censuring important expressive speech.  The court went on to reference SIOA, and the underlying case of In re Geller, no less than seven times.
On December 28, CAIR abandoned its right to appeal the recent order of a Florida federal judge granting our motion to dismiss a lawsuit filed by CAIR against our client, Florida Gun Supply.  In the lawsuit, CAIR alleged that Florida Gun Supply's refusal to equip Islamic terrorists is religious discrimination in violation of Title II of the Civil Rights Act.
We continue to work on our opening brief to the U.S. Supreme Court in our challenge to the HHS Mandate on behalf of Priests for Life.  As you may recall, our case was one of the seven cases challenging the Obamacare abortion and contraception mandate that the Supreme Court agreed to hear this term.
We have committed to being the "tip of the spear" of the litigation arm of a massive, counter-jihad offensive commencing in 2016 that we will be revealing over the coming months!  This will be a tactical and strategic effort to defend American freedom against the growing threat of Islamic jihad, including the "civilization jihad" being waged in the U.S. by Muslim Brotherhood front groups such as CAIR.  Stay tuned!
We are engaging in motion practice and discovery in several other cases all across the country.  As highlights in those cases unfold, we will share them with you in coming alerts.
2015 was an incredible year, and 2016 will only be better!  Lots of challenges ahead; but we are ready!
Thank you for your prayers and your financial support.  We couldn't do what we do without them!  God bless you, and may God continue to bless America!