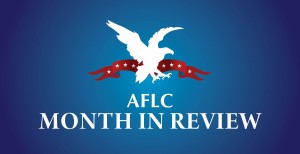 We are pleased to report to you our highlights for the month of October:
On October 3, AFLC Co-Founder & Senior Counsel Robert J. Muise gave a presentation on fighting for faith and freedom to a Catholic men's group in Lake Orion, Michigan.
On October 9, we filed our reply brief in an appeal to the U.S. Court of Appeals for the Second Circuit, appealing a federal district court's ruling that "dissolved" the court's earlier order requiring the New York City's Metropolitan Transportation Authority (MTA) to run a "Hamas Killing Jews" advertisement.  The ad was sponsored by our clients, Pamela Geller, Robert Spencer, and AFDI.
On October 27, we held our inaugural Freedom Fighter Award Dinner in Washington, D.C., honoring four true freedom fighters: Frank Gaffney, Andy McCarthy, Dr. Bob Shillman, and Professor Charles Rice (posthumously).  We had a full house, and the event was a great success!
On October 27, the Center for Security Policy released a new monograph illuminating civilization jihadists' lawfare against America and how to combat this threat.  The monograph, titled, Offensive and Defensive Lawfare: Fighting Civilization Jihad in America's Courts, was written by AFLC Co-Founders and Senior Counsel David Yerushalmi and Robert Muise.
On October 27, Robert Muise spoke at a pro-life leaders' conference in Washington, D.C.  Muise discussed the battle for religious freedom and the HHS mandate.
On October 28, we won a major First Amendment case in the U.S. Court of Appeals for the 6th Circuit (full court) on behalf of Christian Evangelists who were violently attacked by a Muslim mob in Dearborn, Michigan.  A majority of the 15-judge panel ruled that deputies from the Wayne County Sheriff's Office violated the Christians' rights to free speech and the free exercise of religion protected by the First Amendment and deprived the Christians of the equal protection of the law under the Fourteenth Amendment.  This was a complete victory!
We are providing legal advice to owners of wedding venues who want to run their businesses consistent with their Judeo-Christian religious beliefs.
Thank you for your prayers and your financial support.  We couldn't do what we do without them!  God bless you, and may God continue to bless America