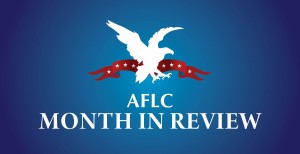 We are pleased to report to you our highlights for the month of September:
We continue to provide legal advice to many people of faith who are being threatened for exercising their fundamental rights to free speech and religious freedom, and we are developing many new and interesting lawsuits which we hope to reveal over the coming months.
And as usual, we continue to use mainstream and social media as a "force multiplier" in our efforts . . . and we ask that you assist us with this important endeavor by "liking" us on Facebook and following us on Twitter (and asking your friends to do the same)!
Thank you for your prayers and your financial support.  We couldn't do what we do without them!  God bless you, and may God continue to bless America!