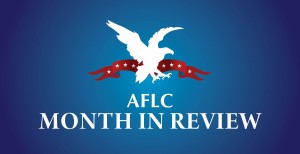 We are pleased to report to you our highlights for the month of August:
On August 17, we filed our opening brief in the U.S. Court of Appeals for the D.C. Circuit in a case in which a federal judge presiding over a five-year old lawsuit alleging that the Council on American-Islamic Relations (CAIR) defrauded dozens of Muslim and non-Muslim clients, issued a shocking ruling when he summarily dismissed the lawsuit after 18 months of discovery that provided more than enough evidence of CAIR's malfeasance.  Our opening brief was filed on behalf of several Muslim and African-American clients, all of whom were victims of CAIR's fraud, and demonstrates that the lower court's ruling was patently erroneous both substantively and procedurally.
On August 21, we  filed our opening brief on behalf of Pamela Geller, Robert Spencer, and their organization, the American Freedom Defense Initiative (AFDI), in their appeal to the U.S. Court of Appeals for the Second Circuit, appealing a federal district court's ruling that "dissolved" the court's earlier order requiring the New York City's Metropolitan Transportation Authority (MTA) to run AFDI's "Hamas Killing Jews" advertisement.
On August 25, we filed our reply brief in the U.S. Supreme Court on behalf of Priests for Life, in support of our request that the Court grant review of this challenge to the Obamacare contraceptive services mandate.
On August 28, a Michigan federal judge sanctioned the Council on American-Islamic Relations (CAIR) and ordered it to pay $9,000 in legal fees to AFLC after we successfully "quashed" harassing and burdensome subpoenas issued by CAIR to a private citizen who received the subpoenas because she publicly expressed her opposition to the construction of an Islamic center in her neighborhood.
We are currently litigating dozens of other cases in defense of faith and freedom and will keep you informed of the highlights!
As always, we continue to use mainstream and social media as a "force multiplier" in our effort to shift public opinion in order to shape public policy . . . the ultimate objective of "lawfare."  To assist us in this important endeavor, please "like" us on Facebook (and ask your friends to do the same) and follow us on Twitter.
Thank you for your prayers and your financial support — all of which make our work possible!  God bless you, and may God continue to bless America!