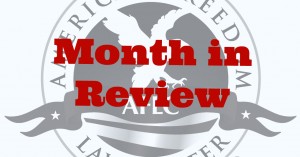 We are pleased to report to you our highlights for this month: 
* On March 4th, AFLC Co-Founder and Senior Counsel Robert J. Muise presented oral argument before the full (en banc) U.S. Court of Appeals for the Sixth Circuit (15 federal judges) in Bible Believers v. Wayne County, an important First Amendment case in which a group of Christian evangelist were attacked by a Muslim mob at an Arab festival held in Dearborn, Michigan in 2012.  Wayne County sheriffs told the Christians that if they did not leave the festival area, they would be arrested for disorderly conduct—the sheriffs did not arrest the Muslim attackers.  This is known in First Amendment parlance as a "heckler's veto," which is impermissible.
* On March 11th, AFLC won an important victory for free speech in Philadelphia!  A federal judge sitting in the United States District Court for the Eastern District of Pennsylvania granted our motion for a preliminary injunction, holding that the Southeastern Pennsylvania Transportation Authority's (SEPTA) refusal to run a "Stop the Islamic Jew-Hatred" advertisement on its advertising space violated the First Amendment.  The judge ordered SEPTA to run the ads, which began appearing on SEPTA buses at the end of the month.  SEPTA has agreed to pay $125,000 in attorneys' fees and costs.
* On March 24th, AFLC Co-Founder & Senior Counsel David Yerushalmi presented evidence and oral argument in the U.S. District Court for the Southern District of New York in support of AFLC's request for a preliminary injunction in American Freedom Defense Initiative (AFDI) v. Metropolitan Transit Authority (MTA).  AFLC is representing AFDI in this constitutional challenge to the MTA's rejection of an anti-jihad bus advertisement.  The MTA claimed that the ad would incite Muslims to engage in violence against Jews in New York City.
* On March 25th, AFLC filed a "friend of the court" brief in the U.S. Supreme Court, urging the Court to uphold traditional marriage as between one man and one woman and to affirm the right of the states to decide this important public policy issue.  This term, the Supreme Court will address the issue of whether the Fourteenth Amendment requires a state to license a marriage between two people of the same sex.  In other words, the Court will decide whether the Constitution requires so-called "same-sex marriage."
*On March 30th, the Supreme Court denied review of our case challenging a California school district's ban on the wearing of American flag shirts on a high school campus during Cinco de Mayo.  School officials justified their censorship by claiming that Mexican students might respond violently to the pro-America message.  As you can see by this unjust ruling, there is still much work to be done to protect our American freedoms!
As always, AFLC continues to use the media (traditional and social) to educate the American people and to influence public opinion in order to shape public policy.
Thank you again for your prayers and your financial support — which makes our work possible!  God bless you, and may God continue to bless America!
P.S. Please remember to "like" us on Facebook (and ask your friends to do the same) and follow us on Twitter.