We didn't let the weather slow us down in February!  Here are some of the highlights for the month:
*On February 2, 2015, AFLC was retained by Jan Morgan and The Gun Cave Indoor Firing Range.  Ms. Morgan recently came under fire by the ACLU and the Council on American-Islamic Relations (CAIR) when she declared her firing range a Muslim-free zone.  Ms. Morgan does not want Islamic terrorists or potential terrorists to use her firing range facilities to train, similar to how the 9/11 terrorists used private flight schools in the United States to learn to fly aircraft.
*On February 4, 2015, AFLC filed its opening brief in the U.S. Court of Appeals for the District of Columbia Circuit in one of its many legal challenges to Obamacare.  This case, Cutler v. U.S. Department of Health & Human Services, argues that Obamacare violates the First and Fifth Amendments to the U.S. Constitution.  Breitbart news asked, "Could this be the case that ends Obamacare?"
*On February 5, AFLC filed its "supplemental reply brief" in the U.S. Court of Appeals for the Sixth Circuit in its case defending a group of Christians who were violently attacked at an Arab festival by an angry mob of Muslims who objected to the Christians' speech.  Video of the Muslim assault went viral on You Tube.  On March 4, 2015, AFLC will be presenting oral argument before the full Sixth Circuit (15 judges) in this critically important case (Bible Believers v. Wayne County), which will decide whether Islamic violence is permitted to trump the First Amendment.  Please keep this case in your prayers!
*On February 11, AFLC Co-Founders and Senior Counsel David Yerushalmi and Robert Muise participated in a very important "Defeat Jihad Summit" held in Washington, D. C.  The event was hosted by AFLC's close ally, the Center for Security Policy (CSP).  Presenters included Senator Ted Cruz, Former Speaker Newt Gingrich, Governor Bobby Jindal, among many others.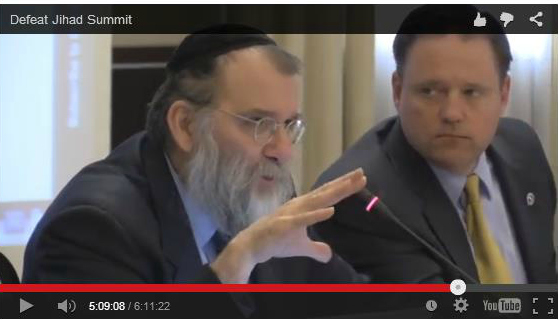 *On February 12, AFLC filed its notice of appeal to the U.S. Court of Appeals for the D.C. Circuit in a case in which a federal judge presiding over the five-year old lawsuit alleging that CAIR defrauded dozens of Muslim and non-Muslim clients, issued a shocking ruling by summarily dismissing the lawsuit.  In this case, the judge sat on the parties' motions for two years and then rendered a ruling that was so patently contrary to the facts and law that once we lay out our case to the appellate court, we fully expect an emphatic reversal.
*On February 19, AFLC filed a supplemental brief in a Michigan federal court in further support of its request for attorneys' fees against CAIR lawyers who abused the legal process by issuing improper subpoenas to a group of private citizens because the citizens publicly opposed CAIR's request to rezone property in their neighborhood to build an Islamic center.  A Michigan federal judge had previously granted AFLC's motion to "quash" the subpoenas, and AFLC is now arguing that CAIR should have to pay attorneys' fees as a result.
Thank you again for your prayers and your financial support — which makes our work possible!  God bless you, and may God continue to bless America!