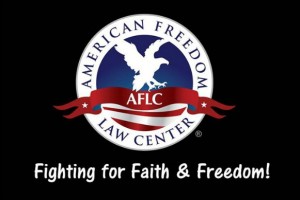 We are pleased to report to you each month our significant activities and accomplishments, all of which are made possible by your generous support.  Below are the highlights for September 2014.  As you can see, this was an incredibly busy month.
 
* On September 6, AFLC entered its appearance in the U.S. Court of Appeals for the D.C. Circuit on behalf of Jeffrey Cutler in a case filed against the U.S. Department of Health & Human Services.  Mr. Cutler, who lost his health insurance because of Obamacare, represented himself in the lower court and sought AFLC's expertise to handle his appeal in the D.C. Circuit.  Mr. Cutler is advancing several constitutional claims against Obamacare.
 
* On September 8, AFLC filed a petition for en banc review in the U.S. Court of Appeals for the Sixth Circuit, seeking full court review of the "dangerously wrong" split decision in the case of Bible Believers v. Wayne County.  In this case, AFLC is representing Christian evangelist who were attacked by a violent, Muslim mob while preaching at an Arab festival in Dearborn, Michigan in 2012.  Rather than arresting the violent Muslims, officers from the Wayne County Sheriff's Office ordered the Christians to halt their peaceful speech activity under threat of arrest for disorderly conduct. 
 
* On September 10, AFLC won a victory against "civilization jihad" as it forced Omar Alomari, a Muslim who emigrated from Jordan in 1978, to dismiss a "defamation" lawsuit he filed against several counter-terrorism experts who exposed Alomari's role as a former high-ranking official in the Jordanian government and his ties to terrorist organizations.  AFLC represented the counter-terrorism experts in this litigation.

* On September 15, AFLC filed a petition for a writ of certiorari in the United States Supreme Court on behalf of Captain Paul Fields, the Tulsa Police officer who was summarily punished for objecting on religious grounds to an order mandating officer attendance at an Islamic proselytizing event held at a local mosque.
 
* On September 16, AFLC filed a supplemental brief in the U.S. Court of Appeals for the D.C. Circuit in its challenge to the Obamacare contraceptive services mandate.  AFLC is challenging the mandate on behalf of Priests for Life, Father Frank Pavone, Dr. Alveda King, and Janet Morana.  AFLC is arguing that the mandate violates the Religious Freedom Restoration Act and the U.S. Constitution.
 
* On September 18, AFLC filed a federal lawsuit in the U.S. District Court for the Eastern District of Pennsylvania against the Southeastern Pennsylvania Transportation Authority (SEPTA) for refusing to run an "Islamic Jew Hatred" advertisement, in violation of the First Amendment.
 
* On September 24, AFLC filed a motion for a preliminary injunction in the U.S. District Court for the District of Columbia in the case of American Freedom Law Center v. Obama.  AFLC is seeking to halt Obama's unlawful executive orders.

Finally, to further the educational component of our "lawfare" effort, during this month AFLC attorneys appeared on local and national radio and television programs and were quoted in national print media.  We also continue to use social media to support this effort.  To that end, we ask you to "like" us on Facebook and follow us on Twitter. . . and ask your friends to do the same!