On May 5, 2010, three plaintiff students and two other students from Live Oak High School in Morgan Hill, California, wore to school various items of clothing (t-shirts, shorts, shoes) that depicted the American flag or American-flag like motifs (i.e., stars and stripes).  That day, some students at the school were celebrating the Mexican holiday known as Cinco de Mayo.  School officials approved the Cinco de Mayo celebration, which was co-sponsored by M.E.Ch.A, a school-sanctioned student movement that rejects the assimilation of Chicanos into American culture. Moreover, the students participating in the Cinco de Mayo celebration were permitted to wear clothing that had the colors of the Mexican flag.
During lunch that day, Assistant Principal Miguel Rodriguez—also a defendant in this case—approached the students and directed them to turn their American flag t-shirts inside out.  School officials were responding to complaints from some students described by Rodriguez as "Mexican American or Mexican students." After shutting down the pro-American students' speech, school officials claimed that the students' pro-America message was objectionable because, referring to the Mexican students, "this is their day."
In short, school officials intentionally restricted the American students' patriotic speech on May 5, 2010, because they believed that the message conveyed by their patriotic clothing would offend some Mexican students because it was Cinco de Mayo. Indeed, school officials enforced the clothing restriction even though they had no objective evidence that the students were causing any disruption—let alone a material and substantial one—to the operation of the school.
On June 23, 2010, AFLC Senior Counsel Robert Muise, along with co-counsel, filed a civil rights lawsuit challenging the school's speech restriction, arguing that it violated the United States and California Constitutions. On November 8, 2011, a federal judge presiding in the U.S. District Court for the Northern District of California held that the school officials did not violate the Constitution by restricting the students' patriotic speech.  The judge stated, "Upon review, the Court finds that based on these undisputed facts, the school officials reasonably forecast that Plaintiffs' clothing could cause a substantial disruption with school activities, and therefore did not violate [the First Amendment]."  In his ruling, the judge relied primarily upon cases that upheld restrictions on the Confederate flag in public schools, claiming that it was a symbol of racism.
AFLC appealed the lower court's ruling to the United States Court of Appeals for the Ninth Circuit.  And this Thursday (10/17), AFLC Senior Counsel Robert Muise will present oral argument before a three-judge panel of the Ninth Circuit.
Without exception, the celebration of the American flag should be protected no less than its desecration.  Indeed, it is a poor lesson in American civics to ban the American flag as a polarizing racist pariah when competing symbols of nationhood are at issue.
Unlike the Confederate flag, the American flag is not—and should not—be viewed as a symbol of racism.  Blocking the display of the Confederate flag in a public school, as in the cases relied upon below, is at least nominally justified by the fact that many people view that flag as a symbol of race hate mongering.  No such claim can be made about the American flag in an American public school.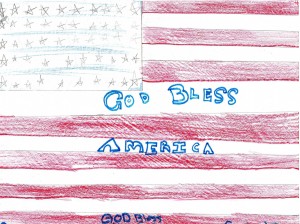 In fact, the American flag symbolizes unity and promotes a public school's goal of providing students opportunities to celebrate their cultural heritages.  Proudly overcoming the flames that briefly enveloped it, the history and heritage of our "star spangled banner" has found unanimous Supreme Court respect as the "symbol of nationhood and national unity."  See Tx. v. Johnson, 491 U.S. 397, 413 (1989); see also id. at 427, 429 (Rehnquist, C.J., dissenting) (amplifying the concept); Id. at 436 (Stevens, J., dissenting) (adopting the phrase and amplifying the concept).  A student's patriotic pride in the flag—and the unity it heralds—does not attack other cultures and should not be discouraged as somehow representing a symbol of divisiveness—let alone violence.
American public schools cannot logically ban the American flag for any duration or reason.  Such a ban contradicts the fundamental objectives of our public school system.  Indeed, the Supreme Court has repeatedly recognized the role of public education as a unifying social force and the basic tool for shaping democratic values.  As noted by the Court, a public school is "the most powerful agency for promoting cohesion among a heterogeneous democratic people . . . at once the symbol of our democracy and the most pervasive means for promoting our common destiny."  McCollum v. Bd. of Educ., 333 U.S. 203, 216 (1948).
Public schools represent "a most vital civic institution for the preservation of a democratic system of government," Abington Sch. Dist. v. Schempp, 374 U.S. 203, 230 (1963), and are the primary vehicle for transmitting "the values on which our society rests," Ambach v. Norwick, 441 U.S. 68, 76 (1979).  Thus, public schools should inculcate fundamental values necessary for the maintenance of a democratic political system.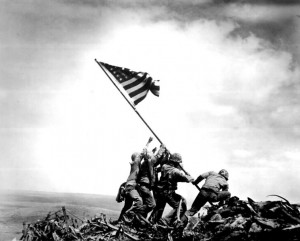 As a result, America's pre-eminent symbol of principled unity and pride—the American flag—should not have to be stowed away in students' lockers on days designated to celebrate the nationalistic pride of any other nation or culture.  If these precedents have any practical meaning, then school officials—anticipating any form of discomfort from competing political views—should be prepared to inculcate in their student populations the spirit and magnificence of the First Amendment's place in the shaping of democratic values.  Cf. Hills v. Scottsdale Unified Sch. Dist. No. 48, 329 F.3d 1044, 1055 (9th Cir. 2003) (stating that "it is far better to teach students about the First Amendment . . . about why we tolerate divergent views" than to suppress speech and noting that "[t]he school's proper response is to educate the audience rather than squelch the speaker").
This means respect for the flag, respect for the Nation, and respect for the speech rights of all American students.  Promoting divisive policies that exalt hostility to national pride subverts the vital role that public schools are meant to serve, and it undermines—indeed violates—fundamental constitutional principles.
As noted, the Supreme Court has repeatedly acknowledged the public school systems' role as a unifying force—a basic tool for shaping democratic values and cohesion within a culturally and racially diverse student body—and a means for promoting our common destiny.  The school district's decision to censor the display of the American flag challenges—indeed, it contravenes—that goal.
In W.V. State Bd. of Educ. v. Barnette, 319 U.S. 624 (1943), the Court spoke directly to the Nation's educators, recalling their mission to teach civics by example:
That they are educating the young for citizenship is reason for scrupulous protection of constitutional freedoms of the individual, if we are not to strangle the free mind at its source and teach youth to discount important principles of our government as mere platitudes.
Id. at 637.  And consistent with this "scrupulous protection of constitutional freedoms," the Court further emphasized that "[i]f there is any fixed star in our constitutional constellation, it is that no official, high or petty, can prescribe what shall be orthodox in politics, nationalism, religion, or other matters of opinion."  Id. at 642 (emphasis added).  Here, when the School Officials prohibited plaintiff students from wearing t-shirts depicting images of the American flag at Live Oak High School on May 5, 2010 (Cinco de Mayo), that "fixed star" in our constitutional constellation was obscured and an official orthodoxy proscribed.
In sum, because the decision below does not "scrupulously protect" fundamental constitutional rights, it must be reversed.