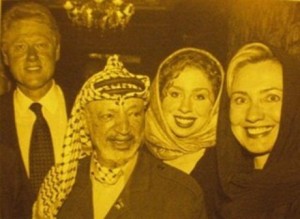 Hillary Clinton had Huma Abedin and Bill Clinton had Gehad el-Haddad. The surprising storyline of the Clintons' affinity for Muslim Brotherhood-linked employees took another turn this week when former top Clinton Foundation official Gehad el-Haddad, now a Muslim Brotherhood operative, was arrested in Cairo for inciting violent jihad. According to the Free Beacon,
El-Haddad gained a reputation for pushing the Muslim Brotherhood's Islamist agenda in the foreign press, where he was often quoted defending the Brotherhood's crackdown on civil liberties in Egypt.

He was raised in a family of prominent Brotherhood supporters and became the public face of the Islamist organization soon after leaving his post at the Clinton Foundation.
Read the entire article here.