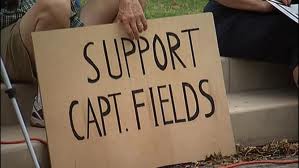 Today, the American Freedom Law Center (AFLC) filed its reply brief in the U.S. Court of Appeals for the Tenth Circuit in defense of Captain Paul Fields, a Christian police officer in Oklahoma who was summarily punished by the City of Tulsa Police Department for refusing to attend and refusing to assign officers under his command who shared his religious beliefs to attend a mandated Islamic proselytizing event held at a local mosque. The event included mosque tours, watching the weekly prayer service, and receiving presentations on Islamic beliefs.
In its brief, AFLC exposes the hypocrisy of the American Civil Liberties Union (ACLU), which filed a "friend of the court" brief in the Tenth Circuit in support of the police department's persecution of Captain Fields. Indeed, while dismissive of Captain Paul Fields' Christian beliefs and constitutional rights in this case, the ACLU had previously filed a brief in the U.S. Court of Appeals for the Third Circuit supporting the religious freedom of Muslim police officers who challenged a police order that simply required them to maintain the same grooming standards as their fellow officers.
In the Third Circuit case, the ACLU argued that the police order conflicted with the religious beliefs of Muslims and was therefore unconstitutional, even though the police department believed that the order was necessary to preserve discipline, morale, esprit de corps, and a uniform appearance to provide the public with a better sense of security and trust in its public servants.
Consequently, in the Muslim case, the ACLU tacitly admitted that there are police orders allegedly intended to promote "public trust" that violate the free exercise rights of officers. As such, and contrary to the ACLU's position taken in the case of Captain Fields, an order forcing an officer to attend a proselytizing event (not a call for service or other legitimate police event) at a place of worship contrary to the officer's religious beliefs is such an unconstitutional order.
There is no doubt that the reason for the ACLU's flip-flop is solely because Captain Fields is a Christian.
Aside from debunking the ACLU's specious arguments, AFLC also refuted the arguments presented by the City in its opposition to this appeal.