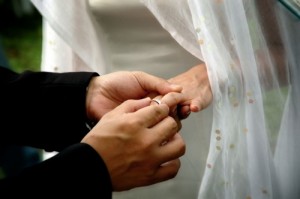 This week, the Supreme Court will hear argument regarding whether homosexual "marriage" is the legal equivalent of traditional marriage and therefore protected under the Constitution.  Regardless of the Court's decision, one thing is clear: the Court cannot by judicial fiat change transcendent truths.
Christian teaching on marriage and on the complementarity of the sexes reiterates a truth that is evident to right reason and recognized as such by all the major cultures of the world.  Marriage is not just any relationship between human beings.  It was established by the Creator with its own nature, essential properties, and purpose.  No ideology can erase from the human spirit the certainty that marriage exists solely between a man and a woman, who by mutual personal gift, proper and exclusive to themselves, tend toward the communion of their persons.  In this way, they mutually perfect each other, in order to cooperate with God in the procreation and upbringing of new human lives.
Basing itself on Sacred Scripture, which presents homosexual acts as acts of grave depravity, the Church has always declared that homosexual acts are intrinsically disordered.  They are contrary to the natural law.  They close the sexual act to the gift of life.  They do not proceed from a genuine affective and sexual complementarity.  Under no circumstances can they be approved.  The Apostle Paul, writing by inspiration of the Holy Spirit, declares that those who engage in homosexual acts "shall not inherit the kingdom of God."  (1 Corinthians 6:9; 10).  Homosexuality is an illicit lust forbidden by God, who said to His people Israel, "Thou shalt not lie with mankind, as with womankind: it is abomination."  (Leviticus 18:22).  In every place that the Bible refers to homosexuality, the emphasis is upon the perversion of sexuality.  The practicing homosexual is guilty of "leaving the natural use of the woman" (Romans 1:27), meaning that his behavior is "against nature" (Romans 1:26), and thus contrary to God's will.  In Old Testament times in Israel, God dealt severely with homosexuals.  He warned His people through Moses, "If a man also lie with mankind, as he lieth with a woman, both of them have committed an abomination."  (Leviticus 20:13).
Consequently, respect for homosexual persons cannot lead in any way to approval of homosexual behavior or to legal recognition of homosexual unions.  The common good requires that laws recognize, promote, and protect marriage as the basis of the family, the primary unit of society.  Legal recognition of homosexual unions or placing them on the same level as marriage would mean not only the approval of deviant behavior, with the consequence of making it a model in present-day society, but would also obscure basic values which belong to the common inheritance of humanity.  People of faith cannot fail to defend these values, for the good of men and women and for the good of society itself.
In sum, there are absolutely no grounds for considering homosexual unions to be in any way similar or even remotely analogous to God's plan for marriage and family.  Marriage is holy, while homosexual acts go against moral law.  And differentiating between persons or refusing social recognition or special benefits for certain behaviors is unacceptable only when it is contrary to justice.  The denial of special protections for forms of cohabitation or sexual behaviors that are not and cannot be marital is not opposed to justice; on the contrary, justice requires it.  Indeed, an unjust law is a human law that is not rooted in eternal law and natural law and is thus no law at all.
In the final analysis, when it comes to pronouncing moral truths, the Supreme Court has no authority to change God's plan for marriage.  And for the good of society, let us pray that it does not try to do so.