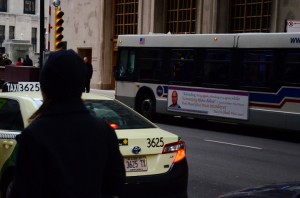 Another victory for AFLC, and another victory for the First Amendment.
Today, the Freedom Defense Initiative's (FDI) "counter-jihad" advertisement campaign began running on city buses in Chicago.
The Chicago Transit Authority (CTA) had originally rejected FDI's advertisements after the local chapter of the Council on American-Islamic Relations (CAIR) claimed in a "cease and desist" letter to FDI that the proposed ads violated CAIR's trademark and trade dress rights in the mark #MYJIHAD, which appeared in earlier advertisements run by CAIR.
In a formal response to CAIR-Chicago's allegations, AFLC Co-Founder and Senior Counsel David Yerushalmi sent an email to the CTA on January 13 that highlighted the letter's factual and legal inconsistencies regarding trademark and copyright law. In the email, Yerushalmi also warned the CTA that to reject FDI's advertisements would violate the Constitution and would result in AFLC filing an immediate federal lawsuit.
Consequently, on February 4, the CTA notified AFLC that it will accept FDI's advertisements. In the letter, the CTA's General Counsel, Karen Seimetz, admitted that the CTA had decided to run the advertisements out of fear of losing in court given AFLC's prior courtroom victories on behalf of FDI in New York and in Washington, D.C.
Read more about this case here.