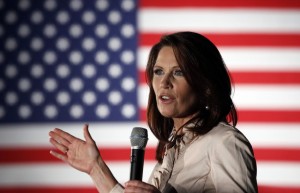 Rep. Michele Bachmann (R-MN) continues to lead Congress in the fight against "civilizational jihad".
Last month, Rep. Bachmann sent a letter to the Inspector General of the Office of the Director of National Intelligence requesting federal investigations into whether the Muslim Brotherhood has infiltrated the U.S. government. In this letter, Rep. Bachmann cited The Muslim Brotherhood  in America: The Enemy Within, the groundbreaking documentary produced by AFLC ally The Center for Security Policy (CSP), and hosted by CSP Founder and President Frank Gaffney (who also serves on AFLC's Advisory Board).
Not surprisingly, the letter set off a firestorm by the Left, led by Muslim Congressman Keith Ellison, who demanded in a reply letter that Rep. Bachmann substantiate her legitimate inquiries as to whether the federal government is being influenced by "civilizational jihad." Of particular note is that Rep. Ellison's letter largely focuses on discrediting Frank Gaffney. Unfortunately for the Congressman, Mr. Gaffney's foreign policy credentials — from serving as the Reagan-nominated Assistant Secretary of Defense for International Security Policy to serving as Chairman of the prestigious High Level Group, NATO's senior politico-military committee — are not taken lightly in the security policy community.
That being so, just last Friday Rep. Bachmann responded to Ellison's letter with a 16-page, 59-footnote letter defending her calls for an investigation:
The purpose of these letters was to request a multi-department investigation into potential Muslim Brotherhood infiltration into the United States Government.
We find this is not only necessary, but beyond timely, considering that departments and agencies o f the U.S. Government (including but not limited to, those departments to which these Inspector General letters were sent) have in the past and continue to be advised by organizations and individuals that the U.S. Government itself has identified in federal court as fronts for the international Muslim Brotherhood. That such a widespread assessment has not been performed is troubling and is the basis for genuine concern given the stark contrast between what the U.S. Government says about these Muslim Brotherhood front groups and their continued association with these groups.
In her closing paragraphs, Rep. Bachmann stresses the grave responsibility to investigate such an ominous threat to American national security:
As members of Congress, we are charged to oversee and hold accountable all government agencies – a charge given to us by the Constitution on behalf of the citizens of the United States. To do anything less is to subvert the oaths we took as members to protect and defend the Constitution. For us to fail to demand action on the part of the Inspectors General on this matter is to fail to uphold the oath to uphold the Constitution of the United States.
We will keep you informed about this story as it develops.