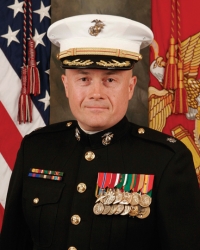 The American Freedom Law Center (AFLC) is proud and honored to have received an incredibly gracious and humbling endorsement from a true American hero: Lt Colonel Jeffrey Chessani, USMC (Ret.).
Robert Muise, Co-Founder and Senior Counsel of AFLC, was the lead civilian counsel who successfully defended LtCol Chessani against criminal charges brought as a result of an insurgent attack against his men that occurred in Haditha, Iraq in November 2005.  The charges against LtCol Chessani were dismissed on the grounds of unlawful command influence.  The government appealed the lower military court's ruling, and Muise successfully defended the dismissal on appeal before the U.S. Navy-Marine Corps of Criminal Appeals (NMCCA) in Washington, D.C.
The following is LtCol Chessani's endorsement:
In early 2007, I met Attorney Robert Muise through less than desirable circumstances.  In December 2006, I was charged with a crime under the Uniform Code of Military Justice for events that transpired at Haditha, Iraq in 2005.

My wife and I had been praying that we would find the right attorney for my defense. God provided Mr. Muise pro bono, and he certainly provided sound counsel and was an answer to prayer.  I was thankful to have his wise counsel over the years.  We instantly developed a personal friendship that went beyond the attorney-client privilege and continues to this day.

I have never observed anyone as serious or committed to his work as Mr. Muise.  He immediately began preparing my case even though it seemed the government was not providing us with the information we needed to prepare a defense.  Mr. Muise is among the most brilliant, determined and dedicated men I have ever met.  In the courtroom he always outclassed his opponents due to his preparation, commitment and strength of will.  Mr. Muise was always enthusiastic and unrelenting as he battled in and out of the courtroom.  He fought for me like he was fighting for himself and personally invested himself in my case both emotionally and professionally.  Mr. Muise never leaves anything on the battlefield; he always expends 100% of himself.

In June 2008, after several years of fighting, God answered prayer in an inconceivable way and the trial judge dismissed all charges against me for unlawful command influence.  I believe God used Mr. Muise mightily on my behalf. Daily Mr. Muise's professional acumen, tenacity and determination were on display; he is the kind of man that can make up a hedge and stand in the gap.

If you are looking for a wise, courageous, determined warrior and attorney then look no further than Robert Muise of the American Freedom Law Center. If you are in a fight for something that truly matters, Mr. Muise is the attorney you are looking for.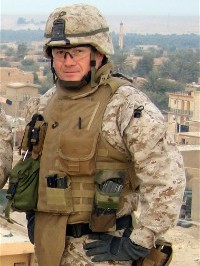 At the time of the insurgent attack, LtCol Chessani was commander of Third Battalion, First Marines and responsible for approximately 2,000 American and Iraqi forces.  At about 7:15 in the morning of November 19, 2005, a squad of LtCol Chessani's Marines was leading a resupply convoy when it was ambushed by a command-detonated IED and small arms fire from nearby houses.  The road-side bomb detonated under a Humvee, instantly killing one Marine and injuring two others.  A house-to-house battle between insurgents and an out-numbered 4-man Marine "fire team" and an ensuing day-long battle with the insurgents resulted in the deaths of 24 Iraqis, including 15 civilians.  A remote-controlled aircraft captured the insurgents on video firing and throwing hand grenades at the Marines.
The decision to launch a criminal investigation of the November 19 incident was made three months after its occurrence as a result of an erroneous and inflammatory Time magazine news story, which military commanders in the field suspected was instigated by terrorist propaganda.  The news story referred to the Haditha incident as a "massacre" perpetrated by the Marines.
The political nature of the criminal process was further reinforced when months before the investigation was completed, now-deceased Congressman John Murtha, an outspoken anti-war critic and chairman of the House military appropriations subcommittee, publicly accused the Marines of killing in "cold blood" and high ranking officers of "covering it up."  Murtha is the same person caught on tape negotiating bribes with Arab Sheiks during the FBI's 1980 Abscam investigation—he was an un-indicted coconspirator in that case.
As the evidence in the case showed, higher echelon commanders were monitoring the action as it was taking place through radio traffic and remote controlled aircraft.  Yet, none of these commanders saw the need for further investigation.  Loss of civilian life was considered a tragic but not uncommon occurrence in a war against insurgents who purposely placed civilians in harm's way.