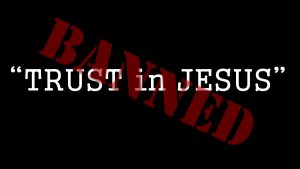 (Grand Rapids, MI—December 22, 2020) – Today, the American Freedom Law Center (AFLC) filed a federal civil rights lawsuit in the U.S. District Court for the Western District of Michigan on behalf of Margaret ("Peggy") Wittman, an election worker who was relieved of her duties by City of Hart, Michigan officials after she refused to hide her shirt bearing the message, "My heart will TRUST in you JESUS" while working at the polls during the November 3, 2020, general election.
A photograph of the shirt and its "offending" message appears below: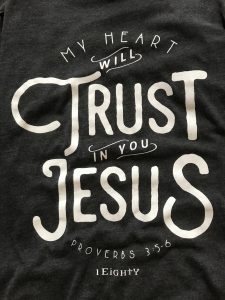 AFLC Co-Founder and Senior Counsel Robert Muise commented:
"The Constitution does not permit government officials to order a private citizen to check her religion at the door to City hall.  Ms. Wittman does not cease being a Christian when she is performing her duties as an election worker for the City.  Indeed, the First Amendment categorically prohibits government from regulating, prohibiting, or rewarding religious beliefs as such.  And the principle that government officials may not enact or enforce policies that suppress religious belief or practice is well understood in our courts of law."
As alleged in the Complaint:
At approximately 7:45 a.m. on Election Day, Defendant Rabe [City Clerk] approached Plaintiff [Wittman] and directed her to turn her TRUST in JESUS shirt around and wear it backwards to hide the "TRUST in you JESUS" message because Defendants considered the message to be "political speech."  Plaintiff refused.  Defendant Rabe then directed Plaintiff to wear a sweater to cover up her TRUST in JESUS shirt.  Plaintiff again refused.  Plaintiff was indignant because she sincerely believes that Defendant Rabe's order was an offense to God.

Plaintiff's TRUST in JESUS shirt is not "political speech."  As publicly stated by Plaintiff, "Jesus holds no political office and was not on the ballot."

Plaintiff refused Defendant Rabe's demand because she did not want her religion "turned around," "covered up," or hidden by City officials.  Plaintiff believes that it would be disrespectful and sacrilegious to treat JESUS, a name above all names, in this manner.  See Matthew 1:21 ("She will bear a son and you are to name him Jesus, because he will save his people from their sins."); Luke 1:31-33 ("Behold, you will conceive in your womb and bear a son, and you shall name him Jesus.  He will be great and will be called Son of the Most High, and the Lord God will give him the throne of David his father, and he will rule over the house of Jacob forever, and of his kingdom there will be no end.").

Because Plaintiff would not act contrary to her firmly held religious beliefs and convictions, she was "relieved of her duties" as an election worker.

Plaintiff was then directed to speak with Defendant Ladner [City Manager].  During Plaintiff's conversation with Defendant Ladner, Defendant Ladner confirmed that Plaintiff's TRUST in JESUS shirt was "political speech" and that Plaintiff could not wear it while working at the polls.

Accordingly, Plaintiff was "relieved of her duties" as an election worker because she refused to violate her deeply held religious beliefs and convictions and because of the viewpoint expressed by her TRUST in JESUS shirt.
The lawsuit alleges that City officials violated Wittman's rights protected by the First (freedom of speech and free exercise of religion) and Fourteenth (equal protection) Amendments to the U.S. Constitution.
Attachments